Blog
April 20, 2022
Every Texan Needs Health Insurance!
Since Obamacare was first passed, Texas Alliance for Retired Americans has urged Texas politicians to take the free federal dollars available to expand Medicaid. At least a million of the most needy Texans would get health coverage, but Texas politicians are just to ornery to take the money!
Congratulations to our Austin President, Jan Lance, for helping organize an important webinar about it. We can register for the webinar at https://bit.ly/TAGm24Apr22
In solidarity
genelantz@texasretiredamericans.org
Gene Lantz, President
Texas Alliance for Retired Americans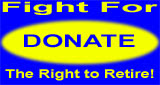 Our Vote Is Our Voice! Seniors Refuse to Be Silenced!