Blog
February 20, 2022
You Are Not Beaten on Vote-By-Mail
Just because the first deadline for vote-by-mail applications has passed, you can still win this key battle against the voter suppressors! There's plenty of time to apply to VBM in the runoff! And there are months between now and the deadline for the general election in November.
Here are important dates from the Texas Secretary of State web site:
Local elections in some Texas cities: May 7
Deadline to receive vbm applications: April 26
Primary runoff election: May 24
Deadline to receive vbm applications: May 13
General Election: November 8
Deadline to receive vbm applications: October 28
DO NOT GIVE UP YOUR RIGHTS! One successful application can allow you to VBM in every election for the year.  Application instructions are on this site at https://texas.retiredamericans.org/2022/01/17/vote-by-mail-is-still-best/.
If you want to do more by helping other Texans, join our "Voter Rights" Facebook Group. We're doing weekly mobilizations for activists!
Gene Lantz, President
Texas Alliance for Retired Americans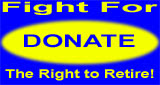 Our Vote Is Our Voice! Seniors Refuse to Be Silenced!