Blog
February 15, 2022
Tips for Your Mail-In Ballot
The voter suppressors made it harder to mail in ballots. Here are tips from Kenneth Williams, the President of the Dallas Chapter of TARA:
There are a number of key items to remember when you are completing your mail in ballot:
1. You have to include an identification number on the carrier envelope (this is the one you mail back to the Elections Clerk). This can be your driver's license number AND the last four numbers of your Social Security Number. The place to enter these numbers is under the envelope flap on the right. This is not visible unless you raise the envelope flap.
2. Recommend you include your contact information. The spaces to enter this data are also located under the envelope flap. This will make it easier for the Elections Clerk to contact you if there any problems with your ballot.
3. You can only put one ballot in a privacy envelope, and only one privacy envelope in a carrier envelop. There have been married couples who have shared envelopes. If you do, both ballots are rejected.
4. After you seal the carrier envelope, sign in the space marked for signature.
Texas Alliance for Retired Americans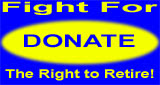 Our Vote Is Our Voice! Seniors Refuse to Be Silenced!