Blog
January 21, 2020
Decision Time for Retirees
This Friday, January 24, 2020, from 10:3 am-2:30 pm, the Texas Alliance for Retired Americans will hold its Biennial Convention in Austin at the Becky Moeller Auditorium of the Texas AFL-CIO, 1106 Lavaca. There is still time to join us if you're interested. Please reply to this Monday Alert with your name and phone number by Wednesday.
TARA AUSTIN PARTICIPATES IN WOMEN's MARCH
TARA Austin activists Tony Padilla, Jack McCabe, Ana Pomar, Thom Woodruff, Jan Lance, Linda Kniolek and Susan Cotham  all participated in the Women's March ATX – Rally at the Capitol on Saturday. They also made some new friends who joined them.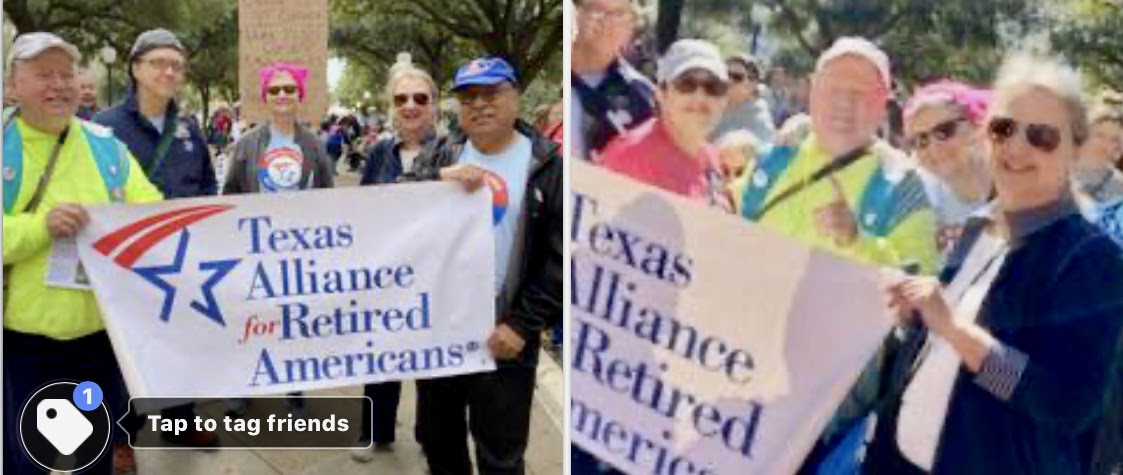 DALLAS TARA RIDES IN THE DR. MARTIN LUTHER KING, JR PARADE
TARA Field Organizer Judy Bryant and activist Ben Willett continued the tradition of riding the Dallas AFL-CIO float in the annual parade to honor Dr. Martin Luther King, Jr. They were joined on the float by members of Alliance-AFT and Dr. Theresa Daniel, Dallas County Commissioner District 1.  Labor and TARA Endorsed Candidate for Texas HD 100 Lorraine Birabil marched beside the float and handed out candy, then rode on the truck. All participants enjoyed waving to big crowds on both sides of the street and shouting  "Happy MLK Day and Thanks for coming out." Texas CD 32 Congressman Colin Allred and Texas District 114 State Representative John Turner stopped by the float before the parade stepped off. TARA member and Texas CD 24 Candidate Jan McDowell also marched beside the float. Dallas AFL-CIO Secretary Treasurer Mark York and super union dog Truman marched the parade route by the float, as did Office Manager/Bookkeeper Jason Tomlinson. Thanks to UAW 848 super activist Gerardo Contreras for his work to provide and drive the decorated float.