Retirement Security
September 09, 2019
Retirees Do Labor Day!
The Golden Triangle and Coastal Bend TARA chapters meet this week. If you live in these areas you will receive a separate email about the meetings. TARA members participated in Labor Day Activities across the state in Houston, Dallas and Corpus Christi.
HOUSTON TARA LABOR DAY ACTIVITIES
Houston TARA President Cheryl Anderson and Activists Richard Shaw, Ellen Shaw, Erma Phillips, Carolyn Riggs, Jerry Wald and Sharon Taylor joined Texas AFL-CIO Secretary Treasurer Montserrat Garibay and USW Activist Lee Medley for Labor Day Activities of the Gulf Coast Area Labor Federation. Cheryl was the golf cart "chaueffer" for her Congresswoman and ARA Hero Sheila Jackson Lee! Members worked hard to sell raffle tickets for the Scholarship Fund. They were also joined by Commissioner Rodney Ellis and Councilman David Robinson.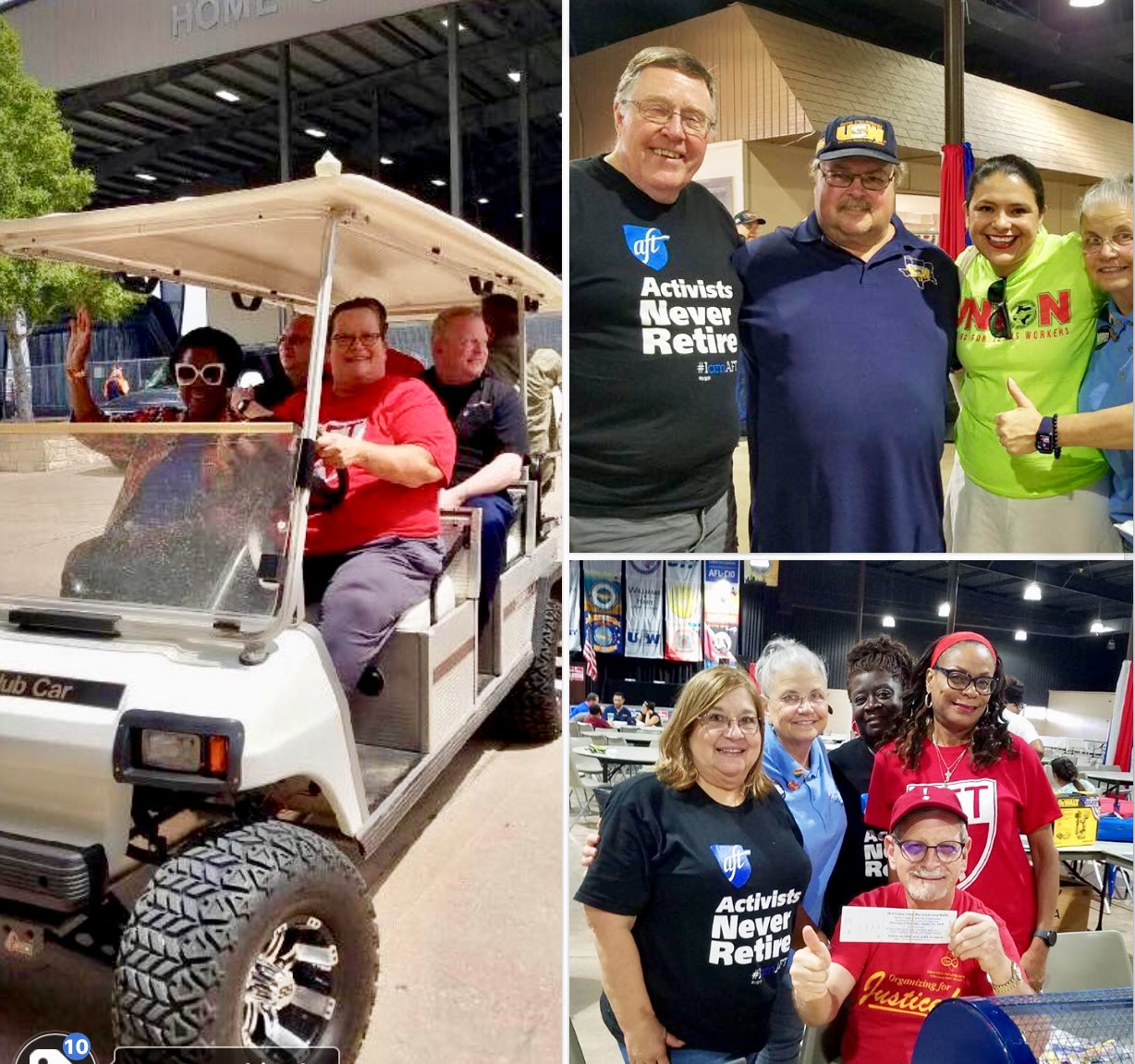 DFW TARA LABOR DAY EVENTS
TARA Field Organizer Judy Bryant, Secretary Gene Lantz, Dallas TARA Chapter President George Nolan and Vice President Tom Berry, were joined by activists Eddie Morgan, Zen Biasco, Bob Fusinato, Larry Mitchell, Julie Britton and Susan Duarte at the Dallas AFL-CIO Labor Day Breakfast. The huge crowd of labor activists, elected officials and candidates were welcomed to Eddie Deen's Ranch by Secretary Treasurer Mark York, followed by video welcomes from AFL-CIO President Rich Trumka and Secretary Treasurer Liz Shuler.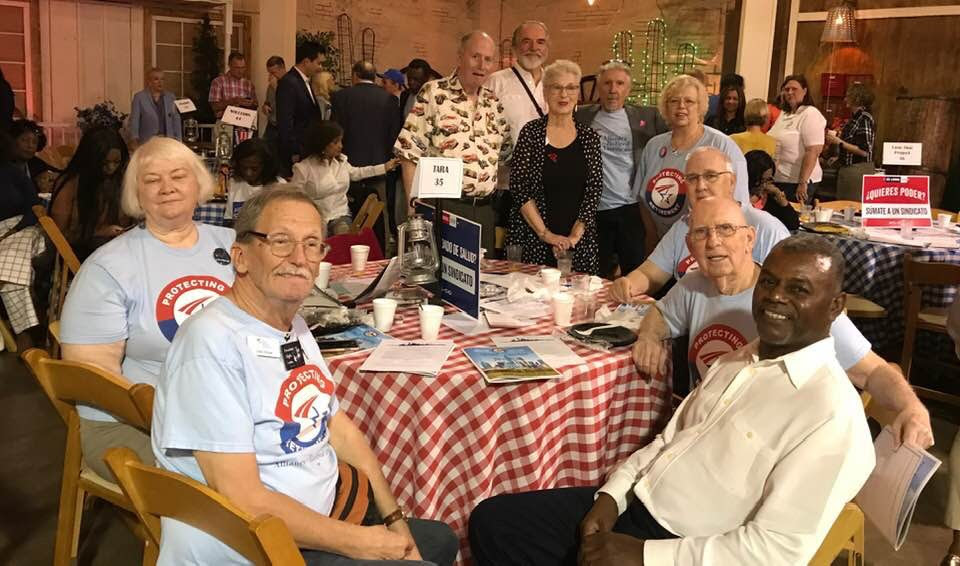 TARA always has a table at the Dallas County Democratic Party Picnic. We shared important information about Prescription Drug Prices, Social Security and Medicare and Protecting Public Pensions. Thanks to Judy Bryant, Eddie Morgan, Zen Biasco and Bob Fusinato for assisting at the table and to activists Ken Williams, Julie Britton, Patricia Murphy and Barbara Rojas for attending! Those present heard ARA Hero Congresswoman Eddie Bernice Johnson, State Reps Ana–Maria Ramos, Terry Meza and Rhetta Bowers, in addition to many other elected officials and candidates.
Fort Worth TARA President Jim Rivers gets the word out in Tarrant County
COASTAL BEND LABOR DAY BREAKFAST
TARA Executive Board members Andy Rosas and Elaine Jones, along with Activists Richard Rock and George Rosas, attended the Coastal Bend Labor Day Breakfast! Ed Sills, Communications Director of the Texas AFL-CIO, joined this group for their celebration.