Blog
April 29, 2019
We Each Leave Our Good Works Behind
The Houston and Dallas TARA Chapters meet on Wednesday, May 1, 2019. If you live in these areas, you will receive a separate email about your meeting.
TRIBUTE TO TARA EXECUTIVE BOARD MEMBER BILLY ROBINSON
This is a tribute on behalf of TARA to the passing of my friend and union Brother Billy Robinson (1934 – 2019) who died Monday April 22 at the age of 84. He lived a long, prosperous and pleasant life with his wife and family. Billy was a member of our Executive Board of the Texas Alliance for Retired Americans (TARA). As member of the International Association of Machinist and Aerospace Workers Union (IAMAW), he believed in paying full Union Dues to his death. After his retirement from NASA, he sought to make sure that NASA was always fully funded in the Congressional Budget. He always introduced a resolution in all Texas AFL-CIO Conventions and in the Texas Democratic Party Conventions on behalf of the IAM. For decades he advocated and fought fiercely to protect the future of union jobs at NASA.
Billy Robinson worked closely with Houston TARA President Cheryl Anderson to get their chapter started and was elected a chapter Vice-President.  He was an outspoken protector of senior benefits including Social Security, Medicare and Medicaid, and Pensions. He also strongly advocated for affordable healthcare and affordable prescriptions for all.
Under Robinson's guidance, the Texas AFL-CIO approved pro-NASA resolutions at conventions, placing the state federation on record in support of a program whose standards and practices literally look to the sky. As President of TARA, I will personally miss working with him in in both TARA and at the Texas State Council of Machinists where Billy Robinson was the State President of the Retirees and worked along with TSCMAW Vice President MarlinPhilips, and yours truly, Tony Padilla.
TARA was represented at Brother Robinson's funeral by President Tony Padilla, Marlin and Thelma Philips, Chris Cruz and Ellen Shaw, shown in the picture below with his wife and son.
                                     Billy Robinson and TARA President Tony Padilla
RIDESHARE2VOTE PROVIDES RIDES FOR VOTERS
Craig McDaniel, a volunteer with Rideshare2vote, provided a ride to the CWA/TARA sponsored Early Voting Rally in Dallas for Field Organizer Judy Bryant, Dallas TARA President George Nolan and activist Eddie Morgan. Secretary Gene Lantz also joined the group across from the George Allen Courts Building as they urged people to VOTE in the municipal elections. Early Voting continues until April 30th and May 4th is Election Day.
Rideshare2Vote is a program started last fall in Dallas and will be offered in various cities for coming elections. Once plans are complete, TARA will share all the information about the program.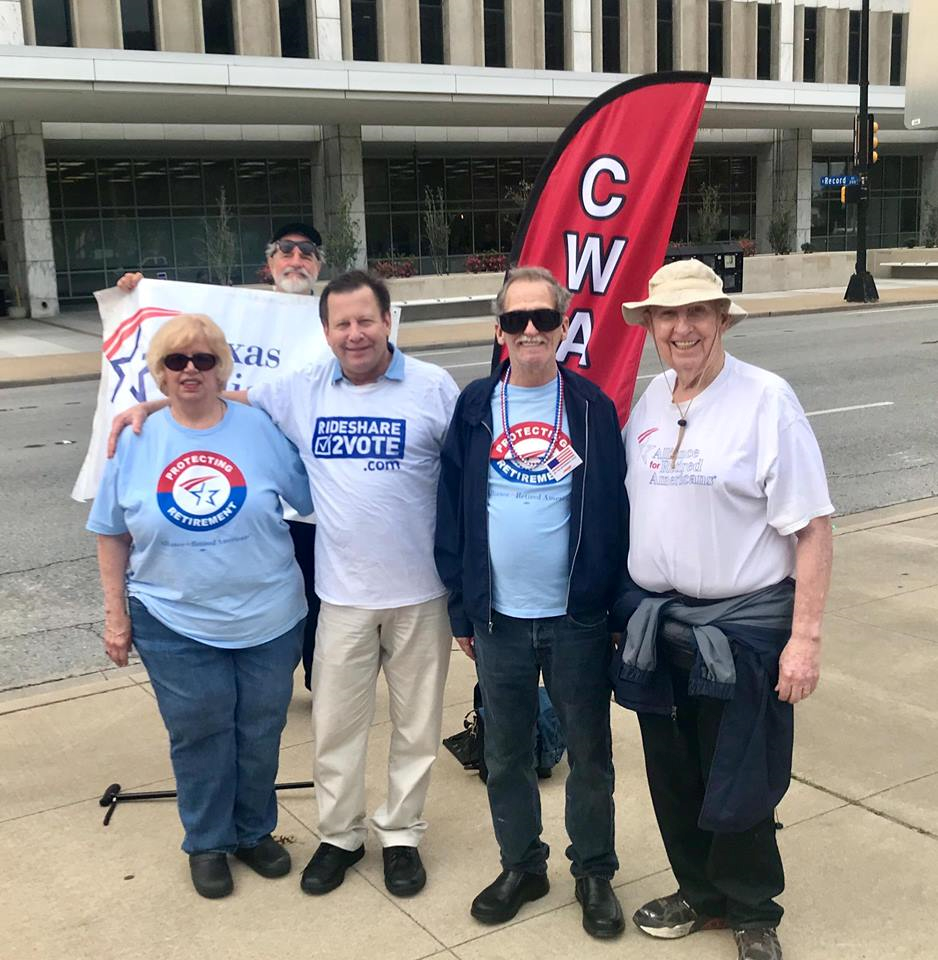 DALLAS CITY COUNCIL PASSES EARNED PAID SICK TIME ORDINANCE
As part of the ongoing work of Texas Alliance for Retired Americans in Austin, Dallas and San Antonio for paid sick time, TARA Field Organizer Judy Bryant joined a large Dallas coalition, including Workers Defense Fund, Dallas AFL-CIO, Texas Organizing Project, Planned Parenthood, YALL, DSA North Texas, ACLU and others for a press conference about the issue. She then spoke to the Dallas City Council to urge support for an earned paid sick time ordinance. TARA supports all workers' right to be healthy and keep their families healthy. The ordinance passed!