Blog
March 12, 2019
Monday Alert 3/11/19
The Golden Triangle TARA Chapter meets on Tuesday. Those who live in this area received a separate email with meeting details.
DALLAS TARA MEMBERS MEET WITH CONGRESSMAN COLIN ALLRED
A TARA delegation, led by constituents Kenneth and Barbara Williams and Jeff Robinson, had a great meeting on retiree issues with new Texas District 32 Congressman Colin Allred.Field Organizer Judy Bryant and Activists Zen Biasco and Bob Fusinato were also part of the group who heard ARA- endorsed Cong. Allred renew his pledges to make no cuts to Medicare and Social Security, plus seek to expand the latter. Williams asked the Congressman about taking action to curtail rising drug prices through negotiations for Medicare drugs similar to those done by the VA for the military. Cong. Allred shared this would be an excellent idea and he also favors repeal of the "Cadillac tax" on high premium employer sponsored health plans. He said he supports protecting retirees' hard earned pension benefits. Thanks Cong.Colin Allred for having seniors' backs and for meeting with us!
In the photo below, l-r, Judy Bryant, Kenneth Williams, Barbara Williams, Cong. Colin Allred, Bob Fusinato, Zen Biasco and Jeff Robinson.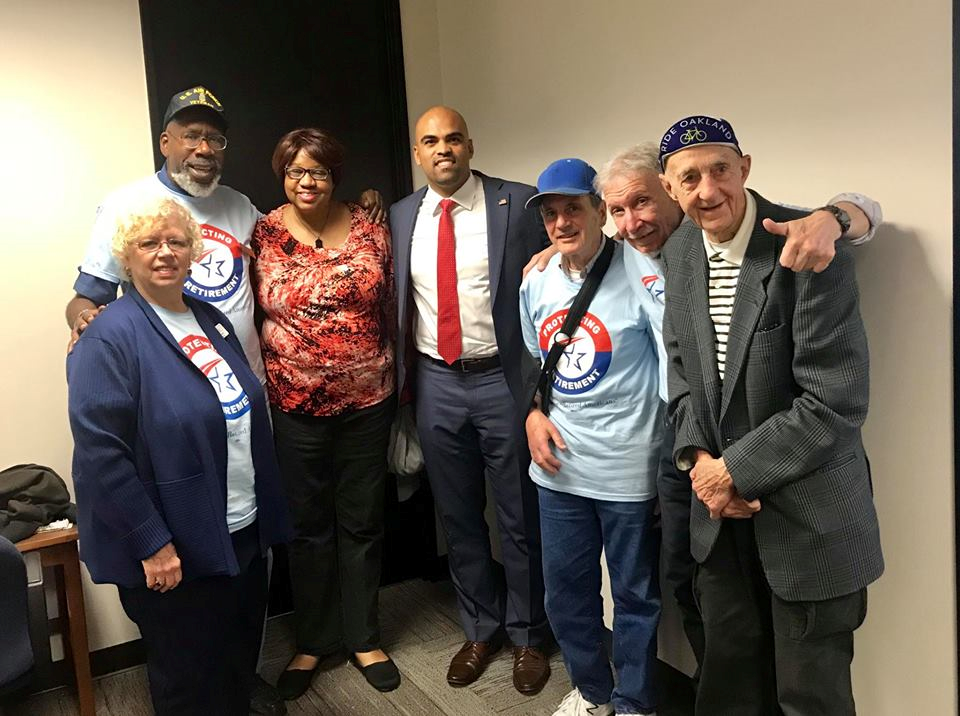 RETIRED EDUCATORS HAVE SUFFERED ENOUGH! YOUR HELP IS NEEDED NOW
Most retired Texas educators, in any job classification,  have received no annuity raise in over 15 years!
While the TRS pension remains in stable condition for the long term, the current funding level and contribution rates are unlikely to allow retiree annuity increases for decades. Active school employees' pension contributions have long been higher than state contribution rates and that state rate is among the lowest in the nation. Retired educators have only had a single 3 percent annuity raise in well over 15 years—less than one-tenth of the inflation rate.
The Texas benefits are 30 percent less than those available in peer systems.  With 96 percent of school employees not participating in Social Security, educators must count on the Teacher Retirement System.
Please send a letter to your lawmakers now and let them know Texas can do right by its retirees by increasing its pension contribution from the current 6.8 percent of covered payroll to 8.8 percent. This would stabilize the actuarial soundness of the fund and allow for a modest cost of living increases for retirees.
https://actionnetwork.org/letters/retired-educators-have-suffered-enough-its-time-to-give-them-a-cost-of-living-increase-2